You are here
Back to top
Neil Armstrong: Young Pilot (Childhood of Famous Americans) (Paperback)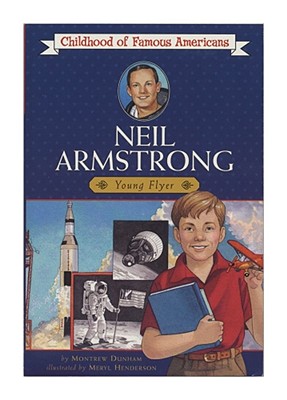 Description
---
Neil Armstrong didn't grow up wanting to be an astronaut—because there were no astronauts in 1930. But he did love to fly from an early age, and after serving in the Korean War and then finishing college, he joined the organization that would eventually become NASA.

As the first man to walk on the moon in 1969, his comment, "That's one small step for man, one giant leap for mankind," was heard by millions, and Neil Armstrong's influence on the world didn't stop there.

From his early years in Ohio to his NASA career, to his later service as an aerospace professor and on Congressional panels, Neil Armstrong's life is a legacy to be admired, and this narrative biography illuminates his childhood.
About the Author
---
Montrew Dunham is the author of a number of historical biographies for young readers in the popular Childhood of Famous Americans series. When she isn't writing, she loves spending time with her family, children, and grandchildren in Illinois and Texas.

Meryl Henderson is a graduate of Syracuse University. In 1974, she graduated summa cum laude with a bachelor of fine arts degree. For over forty years, she has been working as a freelance illustrator, specializing in artwork for children. She has illustrated more than a hundred books and has contributed illustrations to countless magazines and educational books. She currently lives in Catskill, New York.