You are here
Back to top
The Art of Looking Sideways (Hardcover)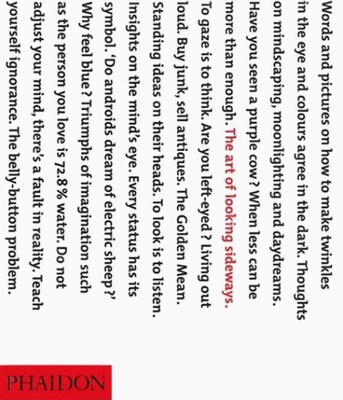 $54.95
Title Temporarily Unavailable
Description
---
The Art of Looking Sideways is a primer in visual intelligence, an exploration of the workings of the eye, the hand, the brain and the imagination. It is an inexhaustible mine of anecdotes, quotations, images, curious facts and useless information, oddities, serious science, jokes and memories, all concerned with the interplay between the verbal and the visual, and the limitless resources of the human mind. Loosely arranged in 72 chapters, all this material is presented in a wonderfully inventive series of pages that are themselves masterly demonstrations of the expressive use of type, space, colour and imagery.

This book does not set out to teach lessons, but it is full of wisdom and insight collected from all over the world. Describing himself as a visual jackdaw, master designer Alan Fletcher has distilled a lifetime of experience and reflection into a brilliantly witty and inimitable exploration of such subjects as perception, colour, pattern, proportion, paradox, illusion, language, alphabets, words, letters, ideas, creativity, culture, style, aesthetics and value.

The Art of Looking Sideways is the ultimate guide to visual awareness, a magical compilation that will entertain and inspire all those who enjoy the interplay between word and image, and who relish the odd and the unexpected.
About the Author
---
Alan Fletcher belongs to that elite international group of designers who have transcended the conventional boundaries of their craft. He is a founder member of the design group Pentagram, with whom he has stayed for 20 years. He now works independently from his own studio in London. He is consultant Art Director to Phaidon Press.
Praise For…
---
"Nobody should enter the real world until they have read and been graphically stimulated by Alan Fletcher's amazing Baedeker of practical and erudite information. The book could have been described by René Magritte - 'A truly poetic canvas is an awakened dream'. I'm sure Alan's magnum opus will awaken many dreams'."—Terence Conran
"This is a cornucopia of a book, a lucky dip of perception and paradox, laced with more strange facts than can possibly be probable and providing more fun than one has any right to expect."—Bamber Gascoigne, author and broadcaster
"A brilliant trick and treat. Fletcher's ideas pretend to have been gathered in from anywhere, but here is a very rigorous creative mind at work. Alan Fletcher is the great visual thinker of our age."—Fiona MacCarthy, Biographer and Cultural Historian
"t last, Alan Fletcher proves that graphic designers can be as fascinated about what things mean, as by how they look. This book is a staggeringly rich collection of words and pictures that will change the way you see the world."—Deyan Sudjic, Author and Critic and editor of Domus magazine
"This remarkable magpie hoard of words and pictures forces one to reconsider the relationship between thinking and looking, telling and showing. And as one had every reason to expect, Fletcher's own drawings and graphics are delightful."—Jonathan Miller, Theatre Director and Author
"A rather special collection... Will go down just as well with your Auntie Mavies as with your lawyer, bin man and coolest friends."—Homes & Interiors
"The design book of the century may have already been written."—Design Week
"Alan Fletcher's book challenges both dogma and habit by questioning how we see things, how we read things and how we understand things."—Royal College of Art, London
"...This book will delight anyone who enjoys unexpected visual and verbal play, cultural and historical observations and insights, and staggering amounts of trivia and anecdotes."—Library Journal