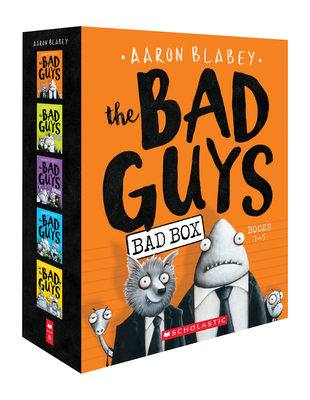 The Bad Guys Box Set: Books 1-5
Publication Date:
February 27th, 2018
Publisher:
Scholastic Paperbacks
Usually Ships in 1 to 5 Days
Description
SOON TO BE A MAJOR MOTION PICTURE!
"I wish I'd had these books as a kid. Hilarious!" -- Dav Pilkey, creator of Captain Underpants and Dog ManThey may look like Bad Guys, but these wannabe heroes are doing good deeds...whether you like it or not! This New York Times bestselling illustrated series is perfect for fans of Dog Man and Captain Underpants.Get ready to laugh up your lunch with the baddest bunch of do-gooders in town! Watch the fur fly in the first five hilarious installments in this bestselling series, now in one bad-to-the-bone boxed set: The Bad Guys,The Bad Guys in Mission Unpluckable, The Bad Guys in the Furball Strikes Back, The Bad Guys in Attack of the Zittens, and The Bad Guys in Interstellar Gas.
Praise for The Bad Guys Box Set: Books 1-5
Praise for The Bad Guys:* "This book instantly joins the classic ranks of Captain Underpants and The Stinky Cheese Man. We challenge anyone to read this and keep a straight face." -- Kirkus Reviews, starred review* "Guaranteed to be a hit for chapter book readers looking for humor and action." -- School Library Journal, starred review
Praise for The Bad Guys:* "This book instantly joins the classic ranks of Captain Underpants and The Stinky Cheese Man. We challenge anyone to read this and keep a straight face." -- Kirkus Reviews, starred review* "Guaranteed to be a hit for chapter book readers looking for humor and action." -- School Library Journal, starred review