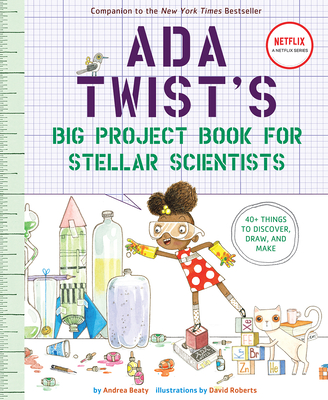 Ada Twist's Big Project Book for Stellar Scientists (The Questioneers)
Publication Date:
April 24th, 2018
Publisher:
Abrams Books for Young Readers
Usually Ships in 1 to 5 Days
Description
From the #1 New York Times bestselling team of Andrea Beaty and David Roberts, Ada Twist's Big Project Book for Stellar Scientists is an activity book offering kid-friendly projects of all kinds—40-plus things to discover, draw, and make—and is the perfect gift for curious young readers!
 
Now a Netflix series!
 
In this companion to the bestselling picture book, Ada Twist will help her fellow young scientists solve mysteries big and small and show how the powerful impact of scientific research is felt all around us. Do you ask questions? Is why your favorite word? Do you like to search for answers and conduct experiments? Then you're a scientist, just like Ada Twist, and this book is for you!
 
Here young scientists have the opportunity to explore all of Ada's favorite sciences—from botany to astronomy to chemistry, and everything in between. They'll create experiments, follow the scientific method, and learn to look more closely at the world around them.
Track the phases of the moon
Build an aquascope
Grow plants in your own garden
Watch decomposition at work
Record weather changes
Observe a chemical reaction
Design a vehicle powered by renewable energy
And much more!
For any parent who wants STEM (Science, Technology, Engineering, and Math) to be fun for their girl or boy, this book is packed with experiments and activities designed to inspire children to be excited about science, school, and learning.
 
Check out all the books in the Questioneers Series:
The Questioneers Picture Book Series: Iggy Peck, Architect  |  Rosie Revere, Engineer  |  Ada Twist, Scientist  |  Sofia Valdez, Future Prez  |  Aaron Slater, Illustrator
The Questioneers Chapter Book Series: Rosie Revere and the Raucous Riveters  |  Ada Twist and the Perilous Pants  |  Iggy Peck and the Mysterious Mansion  |  Sofia Valdez and the Vanishing Vote  |  Ada Twist and the Disappearing Dogs  |  Aaron Slater and the Sneaky Snake
Questioneers: The Why Files Series: Exploring Flight!  |  All About Plants!  |  The Science of Baking
Questioneers: Ada Twist Scientist Series: Ghost Busted | Show Me the Bunny
The Questioneers Big Project Book Series: Iggy Peck's Big Project Book for Amazing Architects  |  Rosie Revere's Big Project Book for Bold Engineers  |  Ada Twist's Big Project Book for Stellar Scientists  |  Sofia Valdez's Big Project Book for Awesome Activists  |  Ada Twist, Scientist: Brainstorm Book  |  Aaron Slater's Big Project Book for Astonishing Artists