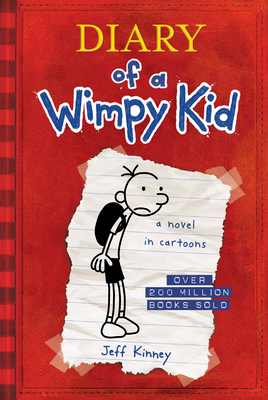 Diary of a Wimpy Kid (Diary of a Wimpy Kid #1)
Publication Date:
April 1st, 2007
Publisher:
Harry N. Abrams
Usually Ships in 1 to 5 Days
Description
In the first book of the Diary of a Wimpy Kid series, #1 international bestselling author Jeff Kinney, introduces us to Greg Heffley: an unforgettable, unlikely hero that every family can relate to.
Being a kid can really stink. And no one knows this better than Greg. He finds himself thrust into middle school, where undersized weaklings share the hallways with kids who are taller, meaner, and already shaving. Greg is happy to have Rowley Jefferson, his sidekick, along for the ride. But when Rowley's star starts to rise, Greg tries to use his best friend's newfound popularity to his own advantage, kicking off a chain of events that will test their friendship in hilarious fashion.
The hazards of growing up before you're ready are uniquely revealed through words and drawings as Greg records them in his diary. But as Greg says: "Just don't expect me to be all "Dear Diary" this and "Dear Diary" that."
Luckily for us, what Greg Heffley says he won't do and what he actually does are two very different things.