You are here
Back to top
The Devil in the Kitchen: Sex, Pain, Madness, and the Making of a Great Chef (Paperback)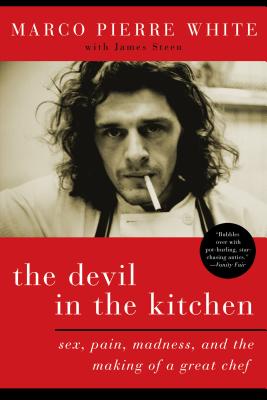 Description
---
An exhilirating memoir from the legendary Godfather of Bad Boy cookimg and a thrilling look behind the doors of a 3-star kitchen.

Without question, the original rock-star chef is Marco Pierre White. Anyone with even a passing interest in the food world knows White is a legend. The first British chef (and the youngest chef anywhere) to win three Michelin stars - and also the only chef ever to give them all back - is a chain-smoking, pot-throwing multiply- married culinary genius whose fierce devotion to food and restaurants has been the only constant in a life of tabloid-ready turmoil.

In The Devil in the Kitchen White tells the story behind his ascent from working-class roots to culinary greatness, leaving no dish unserved as he relays raucus and revealing tales featuring some of the biggest names in the food world and beyond, including: Mario Batali, Gordon Ramsay, Albert Roux, Raymond Blanc, Michael Caine, Damien Hirst, and even Prince Charles.

With candid honesty and wicked humor, he gives us insight into what it takes to become a great chef, what it's like to run a 3-star kitchen, and why sometimes you really do need to throw a cheese plate at the wall.
About the Author
---
Marco Pierre White was born in Leeds in 1961. After training in Britain's finest kitchens, he opened Harveys, which earned two Michelin stars and was London's most talked-about restaurant. From there, he went on to win a third star and build a gastronomic empire that includes many of the most acclaimed restaurants in the U.K. In 1999, he retired from the kitchen and handed back his Michelin stars, but he maintains his presence in the culinary world with Luciano and the Frankie's restaurants, among others. He lives in West London with his wife, Mati, and their three children. He also has a daughter by his first wife.

As a gossip columnist in the late eighties, James Steen phoned Harveys to speak with Marco Pierre White. A Maitre d' answered the phone and ranted on in a strong French accent about how White was "a monster, a crazy man, a lunatic to work for." The "matre d'," it transpired was White. The relationship went from there.

Steen, a freelance journalist, lives a short stroll from what was once Harveys, with his wife Louise, and three children, Charlie, Billy, and Daisy.
Praise For…
---
"A moving, unaffected, delightfully honest book. He may have been one of the most disagreeable bastards ever to command a kitchen brigade, but in the same guileless, unfiltered way in which he cursed out sous-chefs, he's told one hell of a story." - David Kamp, New York Times Book Review

"Bubbles over with pot-hurling, star-chasing antics that earned him the title The Devil in the Kitchen." - Vanity Fair

"His memoir walks us through his career like a grand tasting menu." - San Francisco Chronicle

"[The] story of the working-class boy from Leeds who grows up and becomes a world-class chef, is fascinating, especially in our food and chef-obsessed world. Revealing...a juicy tale." - Chicago Sun-Times

"Compelling...There hasn't been a food memoir this deliciously wicked since Anthony Bourdain's "Kitchen Confidential." I learned more about what it's like to cook in a restaurant kitchen than from any other book I've read." - Portland Oregonian

"Tantalizing." - Vogue