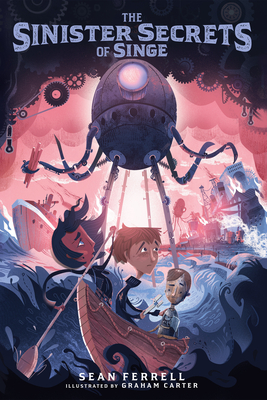 The Sinister Secrets of Singe
Publication Date:
June 25th, 2024
Description
Now in paperback. The Wild Robot meets Sweet Tooth in the first book in a sweeping adventure series packed with robots, smugglers, battles, and a lonely boy trying to find where he fits in the world.
Eleven-year-old Noah has always lived in a mysterious house that grows larger every night. With only his mother and a robot-boy for company, he spends his days building devices for the city of Liberty. It's a place
he's not allowed to visit—not since his father almost destroyed it.
After discovering a hidden message, Noah sets off to find the notorious inventor. All Noah wants is to be happy and for his skill to be appreciated, and he's certain he'll find both at his father's side. With the help of a band of smugglers, he sails to the infamous island of Singe.
But what he finds there is perhaps more terrifying than the mechanical monsters his father was banished for. And when Noah returns home, he accidentally leads his father's robot army to Liberty once more.
Now, it's up to Noah to rescue the city—but to do so, he'll have to make a terrible choice.
Clever, captivating, and a little bit heartbreaking, The Sinister Secrets of Singe is a breathless adventure perfect for anyone
who's ever felt lost.
Praise for The Sinister Secrets of Singe
"A boy's determined search for his father lends emotional heft to this steampunk-inflected series starter. . . . Tackling questions about sacrifice and sentience, this speculative enterprise, accompanied by Carter's moody illustrations, offers melancholic refinement. . . ."—Publishers Weekly
"Ferrell opens this exciting new middle-grade adventure series with a bang. . . . Lush world building and an action-packed storyline will prove perfect for fans of book franchises such as A Series of Unfortunate Events. With a plot that never fails to lose steam, accompanied by Carter's eerie illustrations, Noah's origin story is one that fans of adventure and mystery ought not to miss."—Booklist
"A rollicking adventure featuring a lonely, clever boy choosing to take great risks, face family struggles, and forge found family in the face of tremendous obstacles. Recommended for middle grade adventure shelves."—School Library Journal
"This high adventure veers between fast action sequences and stolid instances of emotional development."—Foreword Reviews
 
"An impressively descriptive story. . . ."—Kirkus Reviews