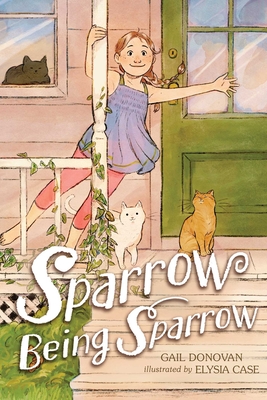 Sparrow Being Sparrow
Publication Date:
July 30th, 2024
Publisher:
Atheneum Books for Young Readers
Description
An endearingly energetic fourth grader takes on the big job of finding new homes for her neighbor's seven cats in this "uplifting" (Publishers Weekly, starred review) illustrated middle grade novel for fans of Patricia MacLachlan and Sharon Creech.
Sparrow Robinson loves to dance and leap around. She loves cats. She has a million questions about the world, and she's not afraid to ask them. But she's just moved to a new town and a new school, and her busy parents have no time for her to get "carried away." Suddenly, she feels totally out of place.
Sparrow's favorite thing in all this newness is her neighbor, Mrs. LaRose, who has seven cats and always has cookies and lemonade to share. But after Mrs. LaRose breaks her hip, she decides to move into assisted living—where the cats aren't allowed! Sparrow has to help.
Determined to find new homes for the cats, Sparrow forgets about her own troubles—but her quest just might be the key to Sparrow finding a home for herself in this town, too.
About the Author
Gail Donovan was fired from her first job in an ice cream shop for making the sundaes too big. She now works in a library and writes middle grade novels, including Sparrow Being Sparrow, a Junior Library Guild Selection; Finchosaurus, a Moonbeam Children's Book Award winner; and In Memory of Gorfman T. Frog, named to the New York Public Library's 100 Titles for Reading and Sharing list. She has also written for the Rainbow Fish & Friends picture book series based on the bestselling work of Marcus Pfister. Donovan lives on the coast of Maine, where she jumps in the ocean all year round. She has shared her home with a dozen birds, a few dogs, a rat, and a cat named Cookie. Visit her at GailDonovan.com. 
Elysia Case is an illustrator from the Finger Lakes region of New York. When she's not making things, she can be found spoiling her pets with too many treats and annoying them with too many kisses. Follow her on Instagram @Elyvescent.
Praise for Sparrow Being Sparrow
*Amazon Best of the Month pick*
*A Junior Library Guild Selection*
*"A spirited child embarks on a mission to rehome her elderly neighbor's seven cats while navigating a new school, new friends, and a shifting relationship with her parents in this warm novel . . . [an] uplifting slice-of-life tale."
— Publishers Weekly, starred review
"A warm and welcoming tale of a girl finding her way home."
— Kirkus Reviews