You are here
Back to top
A Quiet Madness: A biographical novel of Edgar Allan Poe (Hardcover)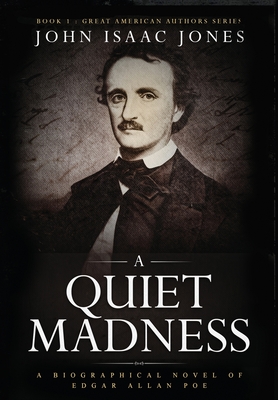 Description
---
John Isaac Jones's new biographical novel on Edgar Allan Poe brings the turbulent life of America's most famous poet to life in vivid, captivating detail.
His time - 1810-40s America; Lewis and Clark have returned; the Monroe doctrine takes effect, the War of 1812; Andrew Jackson's tempestuous presidency; the train, the steamship and the graphite pencil were still being improved; the Mexican-American War, the trail of tears, the California gold rush.
His loves - His frail, devoted stepmother who tried to protect him against his cruel stepfather; Jane Stanard, his stepmother's best friend who initiated him first into poetry, then into manhood; the violet-eyed mysterious Lenore whose death inspired The Raven; Virginia Clemm, his first cousin and great love of his life whom he married one day after her thirteenth birthday.
His genius - Edgar Allan Poe, poet and short story writer who penned the classics The Raven and Annabel Lee; single- handedly created the detective mystery genre; wrote some of the most enduring horror stories in all literature including The Fall of The House of Usher, The Cask of Amontillado, The Tell-Tale Heart and the Pit and The Pendulum.
These pages deliver a compelling portrait of one of the greatest men of letters the world has ever known.