You are here
Back to top
Immortal Poems of the English Language (Paperback)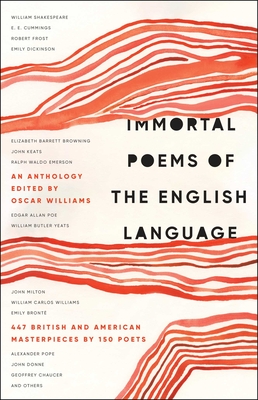 Description
---
A timeless and comprehensive anthology of enduring English language poetry, featuring entries from 150 British and American poets, including Alexander Pope, Lord Byron, Edna St. Vincent Millay, and Emily Dickinson.

The last six hundred years in British and American literature have given us some of the most moving and memorable poems in all literature. Now, discover many of these same works in one gorgeously wrought collection, featuring entries from poets as legendary and beloved as Elizabeth Barrett Browning, John Keats, Rudyard Kipling, Ralph Waldo Emerson, D.H. Lawrence, and many more.

From Lewis Carroll's "Jabberywocky" to Robert Frost's "The Road Not Taken" and from Shakespeare's sonnets to anonymous classics, this is the ultimate gift for poetry lovers of all ages and backgrounds. Arranged chronologically, the 150 poems featured in this stunning collection reflect the immortality of the poetic soul.
About the Author
---
Oscar Williams (1900–1964), editor of this book, was a distinguished poet. The author of five books of poetry, including That's All That Matters and Selected Poems, he achieved literary distinction not only as a highly original and vigorous American poet, but also as one of the great poetry anthologists of his time.