You are here
Back to top
Dynasties (Hardcover)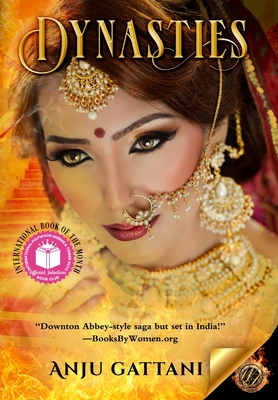 Description
---
DYNASTIES is a January 2023 International Book Of The Month Pick by the International Pulpwood Queen & Timber Guys Book Club Reading Nation
"Dynasties kept me captivated from the first sentence to the very end. An enticing Downton Abbey-style saga but set in India I simply adored it and I cannot wait to read the next book in the series. "-Barbara Bos, Managing Editor, www.booksbywomen.org
"With stories that take us into the culture and dynasties of India, Gattani introduces us to one powerful woman's journey against all odds."-Patti Callahan Henry, NYT Bestselling author of The Secret Book of Flora Lea
In Dynasties, Anju Gattani has created an utterly immersive reading experience. A bravura performance."-David Corbett, award-winning author of The Art of Character
What would you do if family, the people you trusted most, betrayed you?
Sheetal Prasad, a glamorous, twenty-two-year-old oil painter, is the envy of Raigun, India. Her homeland, now modern and global, at last allows women to marry for love, and Sheetal is determined to wed her college sweetheart. Her parents, however, insist she fulfill her familial duty, preserve their honor, and marry millionaire Rakesh Dhanraj-or be cast out forever.
The alliance of the Prasad and Dhanraj families drowns Sheetal in a web of lies, deceit, and betrayal. In her plan to sever this marriage and escape, Sheetal uncovers numerous devastating secrets that threaten to bring down the two family dynasties. When the Dhanraj's tyranny threatens her son, Sheetal has no choice but to protect the boy at all costs, burning down the fa ade of her abusive marriage and empowering herself to break free of all bondages.